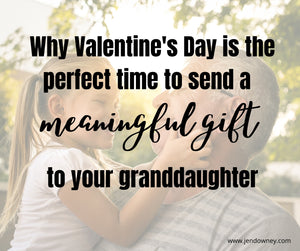 Why Valentine's Day Is The Perfect Time To Send Your Granddaughter A Thinking Of You Gift Idea
I get it. When someone says, 'Valentine's Day' you're not thinking of your granddaughter, but I'm here to change your mind on why it's important to celebrate the holiday with all the loved ones in your life.
I don't want to get too in depth with my personal affairs, but I can tell you that as I grew older my relationship with family members changed...drastically. It's not a story of teenage rebellion or dumb decisions, but it's far too complicated (and personal) to get into on the internet.
((Wrong holiday, but it was the only photo I could find as all my photos are packed away right now. This is a photo of my grandpa & I during the Halloween season))
What I will share is that my grandpa and I went from a solid relationship to not being on speaking terms when he passed away - sounds so black and white when you put it into words without detail.
I will also share that as complicated as our relationship was during my 20's before he passed away, he still holds a special place in my heart. A lot of that has to do with how bonded we were when I was growing up.
That's why it was so important for me to create a line of jewelry specifically for granddaughters from their grandpa on Valentine's Day. ((Full disclosure: I'm still working on adding Valentine's Day gifts. Hopefully by the time you're reading this I'll have my full line available on my website.))
So, I bet you're wondering why I chose Valentine's Day to focus on when it comes to the bond between a grandfather and granddaughter.
I can't remember at what age it started, or stopped, but I know I was old enough to vividly remember. I have a feeling that he paused his gift giving temporarily and started again one year during my teens, and that's why I remember it so well.
Do you remember that Love's Baby Soft perfume? Walgreens used to sell it (I wonder if they still do! I may have to stop in one day and check it out) in a little gift box, packaged perfectly for...you guessed it. Valentine's Day.
I remember my grandpa giving me that little bottle of baby powder smelling perfume for Valentine's Day and I remember how special that made me feel. Heck, it should be pretty evident of how special it made me feeling considering I'm writing about it in my 30s.
If that tiny little moment, which took him no more than 10 minutes out of his life and only a few dollars out of his pocket, could have such an impact on me imagine what a meaningful keepsake would have had.
I'm not saying you have to buy something from me (although I would definitely appreciate the support!), but I want you to think about starting the tradition of celebrating Valentine's Day with your loved ones.
Whether it's a card in the mail or a meaningful keepsake delivered in person, make it a point to develop these traditions when your grandchildren, children, nieces, nephews, and everyone in between are young. How cool would it be to look back in 30 years with such a positive memory of a long lasting tradition that was outside of a birthday or Christmas?
I want to know - do you have a memory from Valentine's Day growing up? Let me know in the comments! I would love to hear from you.
xx-
jen
---
1 comment