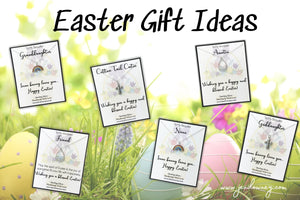 The Best Easter Gift Ideas
In additional to the religious significance behind Easter, it is also a great time of the year to let the special people in your life know that they are loved and you are thinking of them. Send Easter wishes to everyone in your life from your aunts to your friends - Jen Downey's Easter Gift Collection offers a line of meaningful and gorgeous sterling silver keepsakes that can be worn all year round.
Easter Gift For A Friend
Easter is the perfect time to send blessings to a close friend to remind them that you are not only wishing them a season of unlimited blessings and happiness, but that you are also thinking of them! Who doesn't love to get a surprise in the mail? Heck, who doesn't love to get mail that isn't a bill? Easter isn't usually the holiday that you think of sending a friend a gift idea, but there's no reason that you can't surprise your friend with a meaningful Easter gift.
A sterling silver filigree style pendant charm comes on a sterling silver cable chain necklace. You can choose between a 16", 18" or 20" length chain. Comes in a jewelry box tied with ribbon - and free gift wrap is available! Plus, there's free US shipping options. Sending your friend's easter gift directly to her? Be sure to include a note during the checkout process and I'll make sure it gets attached for you.
Everything is taken care of from shipping to gift wrap, and it arrives as a perfectly packaged keepsake that is sure to brighten your friend's day.
Easter gift for friend available here
Goddaughter Easter Gift Keepsake
Some bunny loves you...Happy Easter! A fun, thoughtful, meaningful, and still spiritual, Easter gift idea for your goddaughter. This stunning sterling silver cross necklace makes the perfect keepsake that your goddaughter can cherish over the years.
Made with all sterling silver components, this precious metal cross necklace not only carries a spiritual message, but it is also a great reminder of the everlasting bond that you share with your godchild.
If you're shipping this Easter gift directly to your goddaughter be sure to include a note during the checkout process. I will gift wrap the jewelry box for you and attach the note, making this already incredible keepsake even more special when it arrives for your goddaughter to open.
Easter Gift For Goddaughter Available Here
Easter Gift For Niece
Whether you've been chosen as an aunt or uncle (shout out to all the best friends out there who take on the role of an auntie or uncle!) or your sibling gave you the honor of being an uncle or aunt, the relationship between an aunt or uncle and their niece is a special bond that can never truly be broken.
Surprise your niece, no matter what her age, with a meaningful Easter gift that she can cherish and wear as a reminder of just how loved and adored she truly is.
The fun rainbow (made with sterling silver materials, of course!) necklace is not only a beautiful reminder that your niece is loved, but it's also a bright design to represent the Spring season and brighter days are ahead.
---