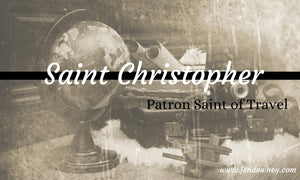 Saint Christopher Gift Ideas
Saint Christopher is the patron saint of all travelers. St. Christopher is also believed to protect people from epilepsy, lightening, storms, pestilence, and floods.
Saint Christopher is also a popular protection symbol for soldiers who wear his medal or carrying a prayer card with them.
Did you know that wearing a Saint Christopher medallion is also a prayer request for his blessings and good luck? Many people believe that St. Christopher wards off misfortunes (i.e. accidents or poor health). It is also said that wearing a Saint Christopher charm can bring you good health, prosperity, and strengthen your faith.
When you think of St. Christopher your first thought is usually traveling in a literal sense, but did you know that Saint Christopher is also known to protect you as you travel through your journeys throughout life? Whether it's starting a new career or graduating from high school, travel doesn't also equate to the act of traveling but rather a journey.

When to Give a Saint Christopher Gift
With the above in mind, there's rarely a time to not give a St. Christopher necklace or bracelet as a gift idea. No matter what the occasion, we could all use a little extra protection and prosperity - couldn't we?
Graduates
Whether it's high school or college, the new graduate doesn't need to be moving away or going away to school to appreciate the gesture of a St. Christopher gift. Venturing to a new school or starting that next chapter in your life is a huge adjustment and a keepsake like a Saint Christopher medallion necklace helps serve as a reminder that the graduate is loved - and someone is sending them prayers for protection and success.
Drivers
You may have noticed that someone who drives for a living, or is constantly behind the wheel, has a Saint Christopher charm hanging from their rearview mirror. That's because St. Christopher has been a symbol of protection for drivers for decades. Giving a Saint Christopher necklace or bracelet is a thoughtful gesture for a long distance driver or just someone who is constantly on the road.
Someone Changing Career Paths
Think about the last time you made a major change in your life - it doesn't have to be career related. How stressed were you? Sure, there were moments of excitement, but there is always going to be that lingering fear of failure in the back of your mind - it's human nature. Ease the nerves and strengthen someone's faith with a gift that they can wear as a reminder that no matter what happens they are always being guided in the right direction and being protected through their journeys.
Travelers
Saint Christopher is probably most known for a symbol of protection for travelers - flying, trains, cars, etc. Jen Downey's Saint Christopher necklaces or charm bracelets make a thoughtful gift you're looking for a gift idea to give to your daughter as she gets ready to jet off to her next foreign country or if you're just looking for a keepsake for yourself to wear as you venture off on your next road trip.

Saint Christopher Jewelry At Jen Downey
I take pride in offering quality jewelry. I've been making jewelry for over ten years and have learned many lessons over the years - including providing quality materials for a long lasting business. I wouldn't want to give a gift that will turn someone's skin green or pay an outrageous amount of money for a material like brass. My jewelry offers a meaningful keepsake with high quality materials.
Each piece comes in a jewelry box tied with ribbon. I even offer free gift wrap when you're adding an item to your cart. So whether you're shipping your Saint Christopher necklace or bracelet directly to someone or you just don't want to have to deal with the added task of gift wrapping the jewelry box, I make sure that your gift is ready to be received as a gift the moment it arrives.
Another perk of shopping with Jen Downey is that you get to choose your length chain, and if you need a different size bracelet I can adjust it for you since I handmade each bracelet myself.
Next time you're looking for the perfect gift to give, think about shopping small with www.jendowney.com - your support is appreciated beyond words.
xx-
jen
---