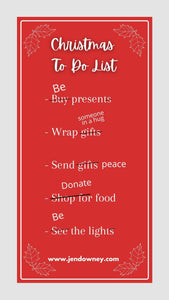 Christmas To Do List
It's refreshing to see that in the recent years most people have gone back to what the holidays are meant to be; the time of the year to get back to creating a more caring world.
It doesn't really matter what you celebrate (I just happen to be raised Catholic, so Christmas is the holiday I am most familiar with), but during the holiday season it is refreshing to see so many people caring more about helping and donating rather than how many gifts are under the tree.
While I believe that it shouldn't need to be the holiday season to give, if it takes Christmas to get people in the mood to make the world a better place than so be it.  
So...what's on your Christmas To Do List this year?
xx
jen
---